The 582-seated acoustically designed theatre, includes an orchestra pit and fully computerised sound and lighting facilities, making it the ideal venue for music and drama events and performances.  The Millennium Theatre located in Surrey, offers a wide range of possibilities and our in-house events and AV team is on hand to support and guide you through from start to finish.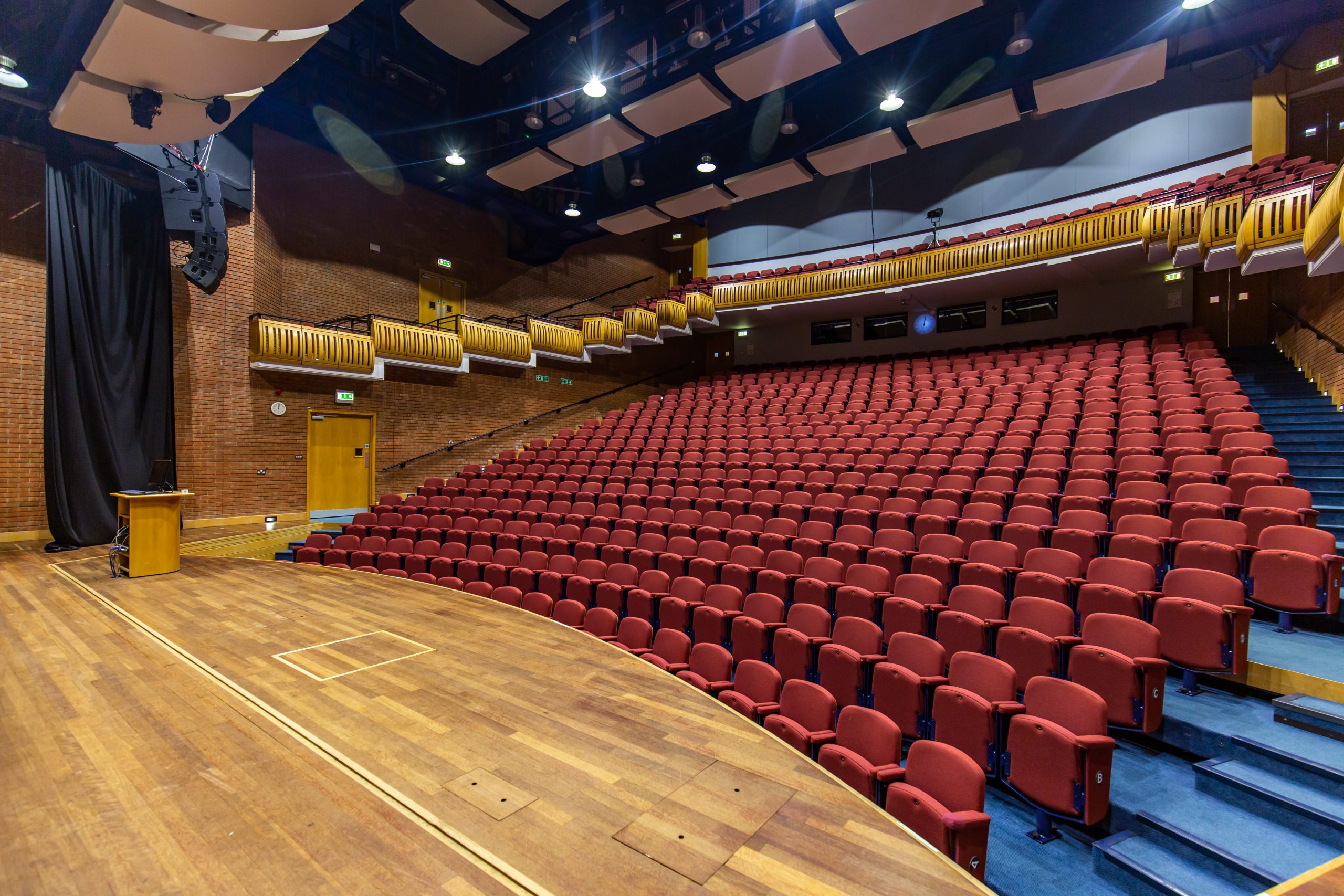 A variety of rehearsal rooms, a bright and spacious recital room, two professional dressing rooms and two large foyer areas.  There's an abundance of space to cater for both small and large events.
A multi-purpose room for events, such as concerts, rehearsals, group lessons and lectures. A bright and airy room with our Grand Piano taking centre stage.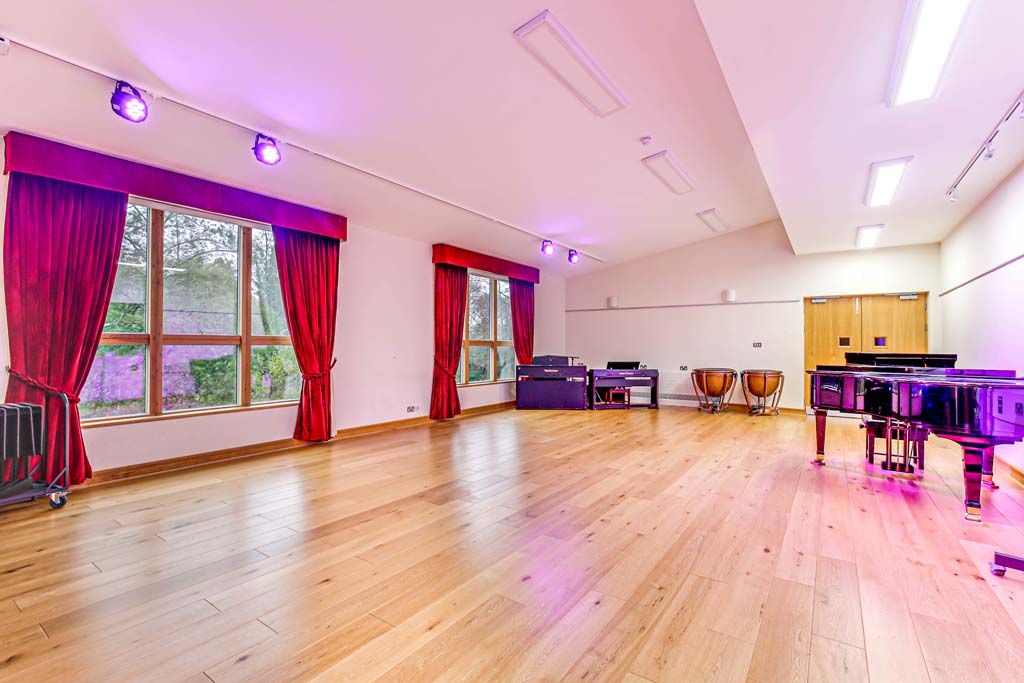 Our Drama Studio is a small black box studio space measuring 12m x 7.5m with lighting rig, projection and AV lighting facilities. We can seat a small audience of up to 30 people in a performance setting, an ideal rehearsal space.
There are two foyer areas in the Millennium Theatre located on the ground and first floors. Fully licensed bar on first floor to serve drinks and refreshments for your performance or events.
Box Office
We can offer a full box office service, commission is charged on ticket sales.
Theatre Staff
Front of House Manager is included within the theatre hire price. Stewards to meet and greet and Ushers to guide your guests to their seats are available for an additional charge.
Technical Services
We have a highly trained team who will assist with the planning and delivery of your event.
Frequently asked questions
Everything you will need to know about Weddings at Marden Park
Do you have a minimum hire time?
admin
2020-11-03T15:56:13+00:00
Yes, our minimum hire period is 5 hours per day.  We are flexible and happy to provide our spaces to you based on the times you need, subject to availability.  Any set-up and dismantle must be included in your hire times. Unless additional time is booked, you won't be able to get into the space prior and will be expected to leave the space empty and tidy by the hire end time. If you choose not to and you overrun, you will be charged overrunning fees at a higher rate.
How do I find you?
admin
2020-11-03T16:54:03+00:00
SAT NAV postcode CR3 7LR, we recommend you do NOT put Woldingham School into your sat nav as this will take you to our back entrance which is of no entry and will add a further 30 minutes to reach the front entrance. Our driveway is 2 miles long, take your time and enjoy the views along the way.
We are Less than 10 minutes from junction 6 of the M25.  Woldingham train station exits directly into our grounds with a  short 15 minute walk to The Millennium Theatre, frequent trains to both London Bridge, London Victoria.
Is there car parking on site?
admin
2020-11-03T16:53:19+00:00
We have ample car parking available.  Car park marshals will be on hand to direct your guests to the designated car park.
What if guests are late?
admin
2020-11-03T16:52:54+00:00
If you arrive late for a performance, you will be allowed to enter the theatre at an appropriate moment during the show or at the interval.
What time do the doors open?
admin
2020-11-03T16:52:32+00:00
You will be able to enter the theatre, approximately 30 minutes before the show begins. Sometimes this can be a little later depending on the production. While you wait, why not grab a drink from our bar and order your interval drinks.
What should guests wear to The Millennium Theatre?
admin
2020-11-03T16:52:06+00:00
There is no formal dress code to attend the theatre.  Whether you wear jeans or a dress its completely up to you, as long as you're feeling comfortable.
Do you have wheelchair access?
admin
2020-11-03T16:51:36+00:00
Our facilities are fully wheelchair accessible and disabled friendly. We have ramps to enter the building, and several seats within the theatre allocated to wheelchairs, spaces are highlighted on the seating plan.  We ask hirers to provide advance notice, to ensure ease of access for their guests.  A disabled toilet is located on ground level, a wheelchair friendly lift provides access to the 2nd floor.
Can we bring in my own food and drink?
admin
2020-11-03T16:51:16+00:00
Only food and drink purchased from our bar can be consumed at The Millennium Theatre.
Where can we get food and drink?
admin
2020-11-03T16:50:54+00:00
We have a fully staffed bar on level 1 for drinks and snacks to be served which will be open before and after the show.  A pre-order service is available for your interval drinks prior to the start of the show.  We can provide a full catering service if required.
Can we hire a piano from you?
admin
2020-11-03T16:50:29+00:00
A piano can be provided on stage, the piano would need to be tuned once moved to the stage, we can provide this additional service for £80.  Prior notice would be required.
Do you have tables and chairs we can use?
admin
2020-11-03T16:50:03+00:00
Each of our spaces has tables and chairs. If you plan on needing a lot of either, please discuss with our hires team to confirm availability.
Can I store my equipment overnight?
admin
2020-11-03T16:49:35+00:00
Storage at The Millennium Theatre is limited and not included in the cost to hire a space. All hirers are expected to leave the space empty and tidy by the hire end time.  Where possible we shall try to accommodate your storage requirements.
Can you offer a charity rate?
admin
2020-11-03T16:49:14+00:00
Where possible we shall try our best to accommodate a charity rate, we are keen to give back to the local community.
Do we need to provide ushers?
admin
2020-11-03T16:41:09+00:00
Yes, you will need to provide your own ushers/fire marshals for the shows x4 stalls, x4 balcony, we are can provide training.  Alternatively, we can provide ushers/fire marshals for an additional charge.